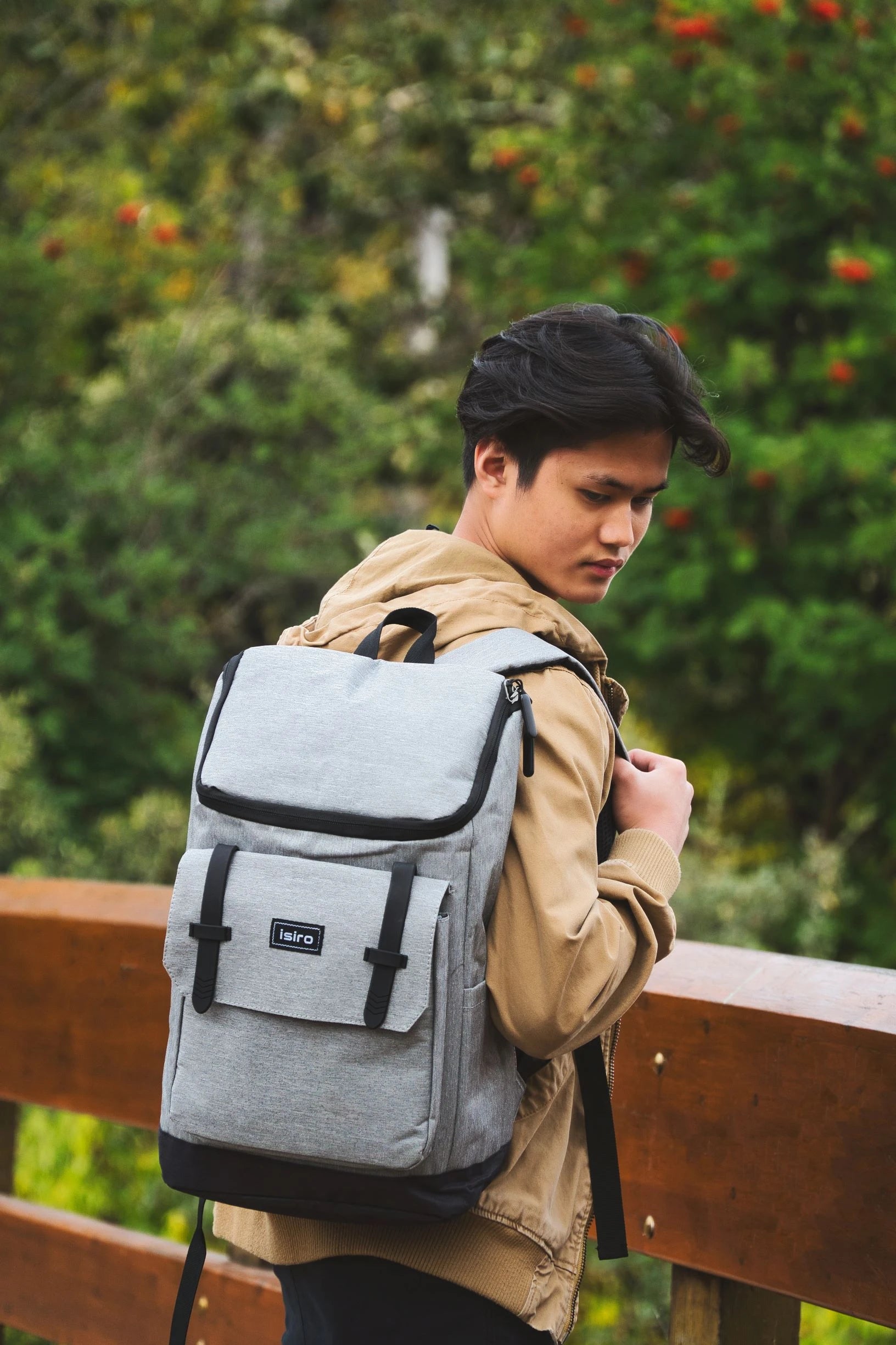 Elevate Your Tech Style with Isiro Canada's Laptop Backpack Collection
In today's fast-paced world, where technology seamlessly integrates into our daily lives, having the right accessories to carry our gadgets is essential. Isiro presents its exclusive Laptop Backpack collection, designed to marry functionality with style. Explore the features that make Isiro's Laptop backpack the epitome of tech-savvy elegance.
Discover the Perfect Laptop Backpack for Your Needs
Isiro understands the diverse needs of individuals, and our Laptop Backpack collection caters to a range of preferences. Whether you're a tech enthusiast, a professional on the go, or a student navigating campus life, we have the perfect backpack for you.
Versatile Laptop Backpacks for Every Occasion: From sleek and professional designs suitable for the corporate world to casual and trendy options perfect for students, Isiro's Laptop Backpacks offer versatility that adapts to your lifestyle.

Laptop Backpacks Canada – Quality Meets Style: Isiro takes pride in offering laptop backpacks crafted with precision and care. Our commitment to quality ensures that your laptop is not only secure but also carried in style. Explore the diverse range of designs that reflect the essence of Canada's fashion-forward culture.

Tech-Ready Features: Isiro's Laptop Backpacks are not just about aesthetics; they are designed with the modern user in mind. Multiple compartments, padded sleeves, and smart organization pockets ensure that your laptop and accessories stay protected and easily accessible.
Explore Our Leather Laptop Backpacks
For those who appreciate the timeless appeal of leather, Isiro offers an exquisite selection of Leather Laptop Backpacks.
Leather Laptop Backpack Women – A Fusion of Fashion and Functionality: Elevate your style with our Leather Laptop Backpacks designed specifically for women. Chic and functional, these backpacks seamlessly integrate into your daily life, providing a sophisticated solution for carrying your laptop and essentials.

Women Leather Laptop Backpack – Where Elegance Meets Technology: Isiro's commitment to women's fashion extends to our Leather Laptop Backpacks. Indulge in the luxury of genuine leather while ensuring your laptop travels in style.

Men's Leather Laptop Backpack – Classic and Contemporary Fusion: For the modern man who values both tradition and innovation, our Men's Leather Laptop Backpacks strike the perfect balance. Classic designs meet contemporary functionality, making these backpacks an ideal choice for the urban professional.
Where to Buy Laptop Backpacks in Canada? Isiro's Got You Covered
Isiro's commitment to excellence extends beyond design to accessibility. Our Laptop Backpacks are available for purchase online, bringing the latest trends in laptop backpacks to your doorstep, wherever you are in Canada.
Explore Our Bag Collection
Enhance your tech ensemble with Isiro's other travel essentials:
Leather Duffle Bag: A spacious and stylish companion for those longer journeys, designed to complement your laptop backpack seamlessly.

Women's Leather Travel Bag: For the modern woman on the move, our leather travel bags offer a perfect blend of style and functionality.

Men's Leather Travel Bag: Crafted with the same dedication to quality and style, our men's travel bags are perfect for pairing with your laptop backpack.
Laptop Backpack Canada – Shop Online with Confidence
Shop online for Isiro's Laptop Backpacks and experience the perfect blend of style and functionality. Elevate your tech-savvy lifestyle with a laptop backpack that complements your individuality.
An Isiro Laptop Backpack is not just an accessory; it's a statement of your commitment to style, functionality, and quality. Explore our collection today and redefine the way you carry your tech essentials.