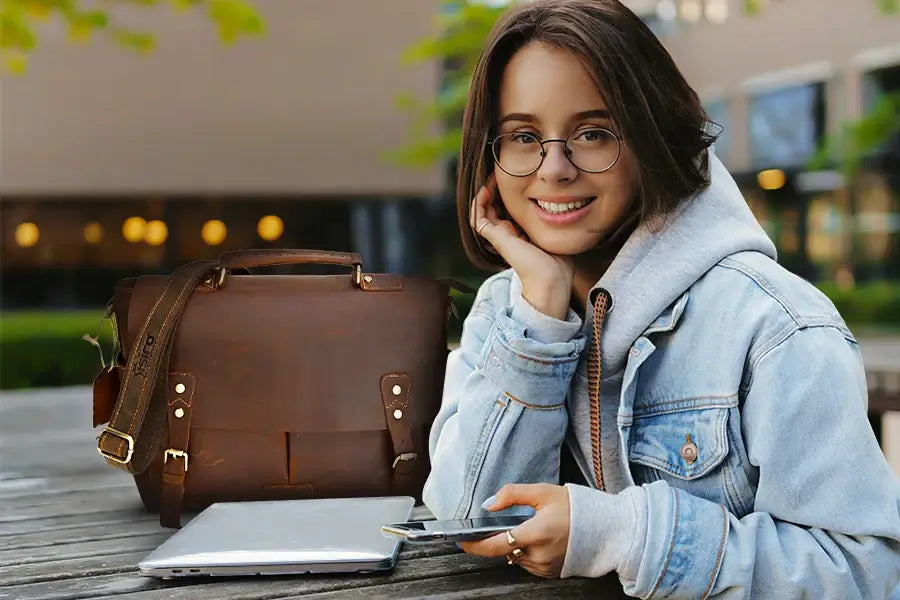 Women's Leather Travel Bag
Travel with Elegance: Discover Isiro's Women's Leather Travel Bags
Are you a wanderer with an eye for style? Elevate your travel experience with Isiro's exclusive Women's Leather Travel Bags collection. Crafted with precision and designed for the modern explorer, these bags seamlessly blend fashion with functionality. Let's delve into the features that make Isiro's Women's Leather Travel Bags the epitome of sophistication and practicality.
Embark on Your Journey with Women's Leather Travel Bags
Isiro understands that every journey is an adventure, and your travel bag should reflect your spirit. Here's why our Women's Leather Travel Bags stand out:
Premium Leather Craftsmanship: Immerse yourself in luxury with our Women's Leather Travel Bags, crafted from the finest leathers. The premium quality ensures durability, offering you a travel companion that ages gracefully with every adventure.

Functional Design for the Modern Explorer: Whether you're jet-setting or road-tripping, functionality is paramount. Isiro's Women's Leather Travel Bags are thoughtfully designed with multiple compartments, zippers, and pockets to keep your essentials organized, ensuring you travel with ease and style.

Versatile Styles for Every Woman's Taste: Isiro's collection caters to diverse styles. From sleek and minimalistic designs for business trips to larger leather travel bags for extended vacations, there's a bag to complement every woman's taste and travel needs.

Large Leather Travel Bag for Women Who Dream Big: For those who need extra space, our large leather travel bags provide ample room without compromising on elegance. Travel with confidence, knowing you have everything you need in one stylish bag.

Women's Leather Travel Duffle Bag - A Blend of Fashion and Functionality: Our travel duffle bags are not just spacious; they are a fashion statement. The perfect fusion of a classic duffle design with the sophistication of leather ensures you stand out wherever your adventures take you.
Pair Your Women's Leather Travel Bag with Perfect Companions
Enhance your travel ensemble with Isiro's other travel essentials:
Leather Duffle Bag: Timeless and spacious, our Leather Duffle Bags are designed for those who appreciate the perfect blend of style and substance.

Men's Leather Travel Bag: Traveling with a partner? Explore our Men's Leather Travel Bags, crafted with the same dedication to quality and style.

Laptop Backpack: For those who carry their work with them, our Laptop Backpacks offer a perfect blend of functionality and style. Carry your essentials with ease and in style.
Isiro is here to redefine your travel aesthetic.
Isiro is more than a brand; it's a commitment to redefine the way you travel. Our Women's Leather Travel Bags are not just accessories; they are statements of your passion for exploration.
Please explore our complete line of travel accessories, each designed carefully and passionately. At Isiro, we create pieces that go beyond trends, becoming cherished companions on your journeys.
Prepare yourself for an assertive and stylish adventure
Unleash your wanderlust with Isiro's Women's Leather Travel Bags. Shop online to discover our wide range of unique, of-the-moment travel accessories. Elevate your style and make a statement with luggage that speaks volumes about your love for exploration.
An Isiro Women's Leather Travel Bag is more than a travel accessory; it's an investment in your journey. So, are you ready to embark on your stylish adventure with Isiro?